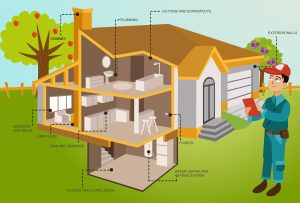 Home inspections are unquestionably an important element of the purchasing and selling of real estate. Inspections are used in both residential and commercial transactions to give the buyer with a professional evaluation of the property's observable material problems. The buyer can make an informed decision on whether or not to proceed with the purchase by identifying these issues prior to closing the transaction.
Almost every real estate agent who represents a buyer advises their client to undergo a house inspection. It's only one of the numerous things a property buyer should perform during the due diligence process. Home inspections, on the other hand, are intended to provide the buyer with a basic picture of the property's condition. They are not, by any means, comprehensive. It's crucial to understand what's included, what's not, and what the inspection process entails.
Basics of Home Inspection and Frequently Asked Questions
At the very least, you should be aware that the house inspector based his or her conclusions on the observations made during the inspection. They aren't compelled to make assumptions about past events or to try to forecast what might happen in the future. As previously said, no single inspector can possibly identify every fault and material defect that exists right now. During the limited time they have on site, they do their utmost to identify as many relevant concerns as possible.
Where Can I Get A Sample Report?
Look for a sample report on the website of a potential home inspection business. Many of them provide examples of previous work so you can see for yourself what you're getting. If nothing is available online, contact them and make a request.
It's tremendously beneficial when the inspector's findings are communicated clearly and concisely in a readily understandable way. A well-structured report with an accurate table of contents is far easier to navigate. Photos, labels, notations, and detailed explanations will aid you in properly comprehending the important findings and indicated conditions being presented.
How much does it cost?
A simple inspection (average sized home – 2,500 sq/ft, no basement/crawl area) with a written report costs roughly $425. However, I've had clients spend as little as $250 (for a small, one-bedroom condo with no report) and as much as $1,000 (for a huge, older home with a crawl space); it all depends on the property and the person doing the work. An expert house inspector could charge thousands of dollars for a multi-day inspection on a big property.
Most home inspectors will provide you with a fairly accurate estimate ahead of time. You'll only need to provide them with some basic details about the property (such as its location, size, age, and if it has a crawl space, slab, or basement), as well as any other services you'd like them to provide. As with other service providers, the higher their rate tends to be the more experienced and in-demand they are. Do not be cheap when hiring a house inspection… an excellent one can save you tens of thousands of dollars in the short and long term.
What To Look For When Choosing A Home Inspector
Just ask around. Make contact with your friends, neighbors, and, most importantly, your real estate agent. It's difficult to trust strangers' online reviews these days, so ask someone you know and trust. In most cases, great house inspectors don't even need to advertise. Word of mouth is a common way for their business to develop naturally. We interact with them on practically every transaction as agents, so we know who is genuine and who isn't. When we can refer you to someone who will do a thorough job.  It is part of our job and you can have confidence in our recommendation.
Home Inspections: How Long Do They Take?
The length of time they require is usually determined by the size and condition of the property, similar to the cost. You should expect them to spend between 2.5 and 4 hours on average at a house. They may usually offer you an estimate of how long it will take, but bear in mind that any issues discovered must be reported. The more flaws they find, the more time they'll spend taking notes and images of what they've discovered.
Most inspectors follow a specific procedure to ensure that they cover all parts of the home in a timely manner. When they're left to their own devices, they can go through their checklist to ensure they've covered everything. A more experienced house inspector will often know what to look for and will be able to complete their routine more quickly, allowing them to focus on concerns that are most important to their customer.
Is It Necessary For A Buyer To Attend A Home Inspection?
Home buyers should expect to attend all or most of the inspection. This gives the buyer the opportunity to see the inspector in person, discuss any issues that have been detected, and gain a better understanding of the property.  We usually encourage purchasers to arrive during the last 30-45 minutes… Things are starting to come to a close, and all of the major problems have been identified.
During the 3-4 hours it takes to investigate a house, there isn't much that happens. Do something productive if you're going to remain there for the entire time. This is an excellent time to take furniture measurements, speak with a contractor (for needed upgrades or repairs), or a designer (for design suggestions), and get to know the neighborhood. Whatever you choose, make the most of your time and remember to treat the seller's home with respect.
Will the inspection reveal all of the flaws in the house?
The short answer is no. You'd get five distinct reports if you got five separate inspections from five different inspectors. While much of what they discovered would be similar, each of them would uncover difficulties that the others would not. They're only human, therefore they'll all have different perspectives. Plus, they'll only be there for a few hours, so it'll be hard to check for every possible issue with the property.
That's essentially all you can ask for as long as they're recognizing the most critical issues (possible health risks or large expenses). Because each person has their unique set of experiences and information, their conclusions will always differ. You should feel certain that you're obtaining a thorough examination of the home's current condition if you pick a reputable home inspection contractor.
What Will The Cost Of Repairs Be?
If you ask, some house inspectors will give you a basic estimate of repair expenses, but you'll have a hard time finding one ready to put it in writing. After all, they aren't the ones performing the repairs; they are simply reporting the problems. Inspectors don't want to be held accountable if the real expenses are much higher than what they predicted.  The quality of service and pricing can vary greatly depending on who you employ to perform the repairs. There are simply too many unknowns for a house inspection to estimate accurately.
You should hire a general contractor or a handyman to receive accurate quotations if you really want to know how much the repairs will cost. Even then, you're merely getting estimates for how much it'll cost to correct the problem; there are no assurances. Why? They can come into hidden flaws or unexpected concerns, which will raise the cost of repairs even more. It may be difficult to determine the whole nature of the problem until you go in there and start dismantling things, depending on what the problem is.
Is It Possible For A House To Pass Or Fail A Home Inspection?
No, there isn't a pass/fail grade provided overall. Issues are simply noted and disclosed, and it is up to the buyer to decide whether or not the property's condition meets their needs. Individual components of the property, on the other hand, may receive a pass or fail mark, depending on how the inspector wishes to communicate their findings. They may even use a scale to score the condition of each inspected object, allowing for more detail.
Is It Really Necessary to Have a Home Inspection in a Newly Constructed Home vs. an Existing One?
Yes. Every residential real estate purchase should be subjected to an inspection. Even with new building, problems will arise that must be resolved. Most builders, fortunately, will simply add inspection findings to their punch list and have everything corrected before the final walk-through. As a buyer, you'll have peace of mind knowing that your new house was built properly and will last.
Amateur investors and flippers can easily go over budget, requiring them to make compromises. They'll often go to great lengths to make things appear as though they were done properly to an uneducated eye. An skilled home inspector won't be misled; poor work that wasn't done correctly or isn't up to code will be discovered.
What Are The Most Important Red Flags For Buyers To Look For?
Big ticket elements like water damage, electrical issues, and foundation problems are the most prevalent red flags and "deal killers". Because the impact can be quite extensive, water and moisture control issues are arguably the most typical and popular concern among buyers. Everything from roof and siding leaks to broken pipes and water incursion into basements and crawl spaces… if not addressed quickly, can cause significant damage and health problems (wood rot, mold growth, etc.).
Decks are also a common problem and they can be a serious safety threat if they collapse or someone falls. Because the wood and fasteners are exposed to the outdoors, they will deteriorate with time, especially if they aren't properly cared for. Because the cost of properly repairing and securing a deck may quickly add up, it's frequently a source of conflict for buyers and sellers.
The soil conditions here in Texas can cause foundation issues over time.  This is one place where having an educated and thorough home inspection can save you thousands not to mention headaches.
Tips for First-Time Home Buyers
It's a good idea for a buyer to do some research before the inspection. You should begin by conducting research to ensure that you choose the best candidate for the job. Confirm the appointment date and time with the homeowner to guarantee that the property will be available at that time or let The Maxwell Team do all the scheduling for you.
If at all feasible, make sure you have time in your calendar to attend a portion of the inspection. To avoid any delays, bring your payment with you or make plans to pay in advance. Keep in mind that some inspectors will refuse to come unless they are paid in advance, and most businesses will not provide the final report until they have been paid in full.
You and/or your real estate agent should also give the seller's property disclosures (if available) and a list of potential concerns (if you have any) to your home inspector. Even if you've been informed the situation has been resolved, you should look into any previous difficulties with the property. Obtain any forms or documents that the inspector will be required to sign. This could include clearance letters (for termites and vermin, lead-based paint, septic systems, and so on).
Preparation Advice for Homeowners (Sellers)
It's critical to take the time to properly prepare your property for sale and make it appealing to potential buyers, but don't overlook the inspection. When done correctly, it can help you save money and avoid the frustration of receiving a negative or incomplete report. There are a few simple things you can do to avoid delays and allow the inspection to take place in the first place. Begin by removing or crating your pets to keep them out of the way. Leave the keys to storage sheds, garage doors, gates, crawl space doors, and any other part of the house that isn't easily accessible.
If the house is empty, make sure it's been de-winterized and that all utilities are turned on and pilot lights are lighted (gas furnace, oven & hot water heater). You may also need to inform the inspector of any equipment in the house that is difficult to work so that it is not listed as broken or unusable. Prepare receipts, invoices, and warranty documents to prove that any repairs have been completed.
If you can, address known flaws, especially if they're inexpensive and simple to remedy. Even individuals who aren't particularly handy around the house may do things like change the HVAC filter, unclog drains and gutters, replace burned-out light bulbs, and trim shrubs and tree branches away from the structure. Also, don't forget to change the batteries in carbon monoxide detectors, smoke detectors, and ceiling fan/light/etc. remote controls.
Want to avoid unpleasant shocks by identifying and resolving problems ahead of time? A pre-listing house inspection could be the solution.  Identifying and making repairs before the inspection will show that you have properly cared for the property and may facilitate an easier escrow process.
What Does A Basic Home Inspection Include?
The majority of inspections follow a set of guidelines that serve as a guide for the house inspector. These standards of practice are produced by a number of professional trade organizations (for example, ASHI and InterNACHI), each with its own set of norms. The standards are intended to provide a minimum quality of technical and ethical performance, allowing home buyers to make an informed selection based on accurate and objective data. The requirements differ slightly depending on which method is used. These are the primary components that are often discussed and commented on in general:
Air Conditioning: Includes air filters, dampers, ducts & pipework, fans, fan-coils, insulation, pumps, registers, and supports, as well as operating controls and distribution systems. If the system(s) are operable, the regular operating controls (thermostats) will be used to test them. A description of the energy source, location(s), and kind of cooling system will be provided. Note: If the outside air temperature is below 65 degrees at the time of inspection, operating the A/C unit(s) may cause damage to the system, so they may not be tested.
Electrical Systems: Service drop, mast, cables, entrance conductors, raceways, electric meter/base, and over-current protection devices are among the electrical components. Grounding, bonding, drip loops, disconnects, and attachment points are all things that need to be considered. A "representative number" of lighting fixtures, receptacles, and switches that have been installed. Receptacles with arc-fault circuit interrupters (AFCI) and ground-fault circuit interrupters (GFCI). System amperage rating, panel placement and proper labeling, wiring type(s) and procedures, and the presence of smoke and carbon monoxide detectors should all be documented.
Exterior: Balconies, carports, decks, doors, driveways, eaves, fascia, flashing, garages, handrails, patios, porches, ramps, railing, retaining walls, soffits, stairs, steps, stoops, walkways, and windows are all examples of exterior features. Improper drainage, grading, landscaping, and vegetation growth will be reported if they have an adverse effect on the home's structure. The materials used to cover the walls (siding types) are likewise defined and documented.
Fireplaces: Chimney, clean-out doors & frames, damper doors, fireplace, installed fireplace inserts, lintels, and vent systems are all included in the inspection of the fireplace. The visible and accessible sections of the chimney and fireplace will be examined by the inspector. The sort of system and its components will be described. The requirement for rectification will be reported if a smoke detector and a carbon monoxide detector are not present in the same room as the fireplace.
Heating: The heating system(s) that have been installed, as well as its vent systems, flues, chimneys, and distribution systems. The heating equipment must work properly and be easily accessible using standard operating controls. The report will detail the energy source, heating method, and location of the system/thermostats.
Insulation & Ventilation: Check for adequate insulation in the attic and other unfinished areas of the house (kind, depth, and coverage). Mechanical exhaust systems (bathroom fans, dryers, kitchen appliances, etc.) and unfinished rooms require ventilation (attic, basement, crawl space).  Note that insulation and vapor barriers will not be disturbed during the evaluation, and their effectiveness will not be reported.
Interior:  Ceilings, cabinets, countertops, doors, floors, landings, ramps, railings, stairs, stairways, steps, walls, and windows are all included in the interior design. Cooktops, dishwasher, food waste grinder, microwave, oven, and range including all installed appliances. Using standard operating controls, the garage doors (manual and automatic) will be opened and tested.
Plumbing: Shut-off valves for the main water and fuel supplies, sewage ejectors, sump pumps, vent systems, fuel storage and distribution systems, and the interior water supply and distribution system. Energy source, seismic bracing, temperature/pressure-relief (TPR) valves, venting connections, and Watts 210 valves are all included in inspecting the water heater. The operation and drainage of all showers, sinks, toilets, and tubs are checked. The location of the main water and fuel shut-off valves, as well as the water heating equipment and energy supply, will be documented.
Roofing: Roof materials, vents, flashing, skylights, gutters, chimneys, downspouts, and any other roof penetrations are all part of the roof inspection. The general construction, as well as any active leaks caused by a roof failure, must be recorded. It is important to note that walking on the roof is not essential, and it can be dangerous. From the ground, at the eaves, or with binoculars, cameras, or drones, the roof can be visually surveyed.
Structural: An examination of the home's structural elements, such as the foundation and framing. The following structures will be described in detail: ceiling, floor, foundation, roof, and walls.
What exactly isn't included in a regular house inspection? Cosmetic defects, pools & spas, communication systems, presence of toxic mold spores, soil contaminants, lead-based paint, Radon, sewage & disposal systems, underground tanks, hazardous substances, water quality, air quality, noise, outbuildings, or any items that are not permanently installed are generally not reported on by home inspectors unless otherwise stated. Keep in mind that issues must be visible to be reported, therefore anything hidden or inaccessible will not be reported.
In general, inspectors are not required to provide the following information, but some do: system life expectancy, repair methods or costs, zoning or regulatory compliance, building code compliance, notification of unpermitted construction, warranties or guarantees of any kind, market value of the property, or whether the buyer should or should not proceed with the purchase. They also won't test systems or components that aren't working as they should, undertake a technique that could damage the property or endanger the inspector, move items that are impeding access/visibility, or assess the performance of hazardous substance control systems.
Additional Inspection Services for Your Home
Some inspectors provide additional services in addition to a standard home inspection, depending on their training, experience, and tools (additional fees usually apply). Because the inspector will already be on the property, you may be able to save money by having them conduct these services (rather than engaging a different business).
Asbestos
Decks
Synthetic Stucco
Consultation with the Federal Housing Administration (FHA) for a 203(k) loan
Foundation Inspection
Gas Lines
Stucco
Infrared Scan (Thermal Imaging)
Lead-based Paint/pipes
Mold Testing
Pest / Termites
Pre-drywall Inspection (New construction or rehab)
Pools
Radon Testing
Septic Tank Inspection
Sewer Lines (Sewer Scope)
Sprinkler Systems Check
Water Quality
About Home Inspectors
Playing a crucial part in most real estate transactions, the insight from a home inspector can heavily influence a buyer's decision to move forward with the purchase of a home. It's important that an inspector has the proper training, experience and knowledge to deliver an accurate assessment of the property they're evaluating. Someone with a solid background in construction related work often makes the ideal home inspector. They need to have a same general knowledge as those working in multiple trades, including: a deck builder, electrician, framer, HVAC technician, landscaper, mason, plumber, roofer and more.
Most home inspectors work for themselves once they've built up a clientele base and start getting steady appointments. However, some prefer to work for a company that handles most of the scheduling, billing and customer service. The really good ones typically stay booked up with appointments… sometimes up to a week out. Unless you've got a longer than normal due diligence period, you'd better reach out to them ASAP once you've gone under contract. If you go to book an inspection and the inspector's schedule is wide open, you may want to reconsider your choice.
No matter who you choose to do your inspection, be sure to read through their inspection agreement and scope of work before committing to hire them. You may also want to ask them some of the following questions: How many inspections have you completed? What standards of practice do you follow, if any? Do you enter crawlspaces and/or attics to inspect? Do you provide a written (digital) report? When should I get there? How long will it last?
Licensing & Certifications
The licensing, education and certification requirements for home inspectors are different in every state. To search your state's requirements, visit homeinspector.org and click on the link for Texas.
There are two national trade organizations for home inspectors (ASHI & InterNACHI), each working diligently to build consumer awareness and enhance the level of professionalism in the business. They've both implemented their own strict code of ethics and standards of practice for their members to follow. These membership-based groups also offer specialized education, certification, and essential resources to help home inspectors grow their business.
There are also smaller organizations operating at the state level; providing their members with additional local resources and opportunities to network with others in the business.